Amy Goodman,
"Independent Media In A Time Of War"




"When the United States aligns with dictatorships and totalitarian regimes, it compromises the basic democratic principles of its foundation -- namely, life, liberty and justice for all. Dictatorships such as Musharraf's suppress individual rights and freedoms and empower the most extreme elements of society. Oppressed citizens, unable to represent themselves through other means, often turn to extremism and religious fundamentalism."

--

Benazir Bhutto

,

A False Choice for Pakistan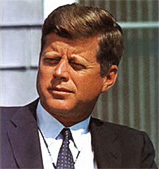 JFK Speech on Secret Societies and Freedom of the Press
Final Jeopardy: Asking the Right Question...
by Elizabeth de la Vega (former federal prosecutor)
Is a President, on the eve of his reelection campaign, legally entitled to ward off political embarrassment and conceal past failures in the exercise of his office by unilaterally and informally declassifying selected -- as well as false and misleading -- portions of a classified National Intelligence Estimate that he has previously refused to declassify, in order to cause such information to be secretly disclosed under false pretenses in the name of a "former Hill staffer" to a single reporter, intending that reporter to publish such false and misleading information in a prominent national newspaper?

by Pat Oliphant

Purple America Map: Election 2004 Results
How different is the blue from the red from the purple?

Also: cartograms (and here), maps in which the sizes of states have been rescaled according to their population:

Doonesbury, October 18th, 2002, © Copyright Garry Trudeau
The Art of Worldly Wisdom
"The world is in chaos. Honorable dealing is deteriorating, good friends are few, truth is held in disrepute, good service is underpaid, poor service is overpaid. Whole nations are committed to evil dealings: With one you fear insecurity, with another, inconsistency, with a third, betrayal. This being what it is, let the bad faith of others serve not as an example, but as warning. The real danger of the situation lies in the unhinging of your own integrity: accepting less than your best, being overly tolerant of stupidity, forgiving incompetence, fraternizing with the nonspiritual. The man of principle never forgets what he is, because he clearly sees what the others are."
Baltasar Gracian
, Spanish Jesuit scholar, 1601-1658
Of the Religions in Utopia
"so God help me, I can perceive nothing but a certain conspiracy of rich men procuring their own commodities under the name and title of the commonwealth. They invent and devise all means and crafts, first how to keep safely, without fear of losing, that they have unjustly gathered together, and next how to hire and abuse the work and labour of the poor for as little money as may be."
Sir/Saint Thomas More
, Lord High Chancellor of Great Britain, 1478–1535
War is Just a Racket by General Smedley Butler, USMC (more)
"To announce that there must be no criticism of the president,
or that we are to stand by the president right or wrong, is not only unpatriotic and servile,
but is morally treasonable to the American public." -- Theodore Roosevelt
"In the councils of government, we must guard against the acquisition of unwarranted influence, whether sought or unsought,
by the military-industrial complex. The potential for the disastrous rise of misplaced power exists and will persist."
-- Republican President Dwight Eisenhower, Farewell Address, January 17, 1961
A cloud over civilisation Corporate power is the driving force behind
US foreign policy - and the slaughter in Iraq by JK Galbraith, July 2004
"Which is more troubling to you as a citizen: Bill Clinton's relationship with Monica Lewinsky
or George Bush's relationship with Ken Lay [of Enron]?" - Paul Begala
"They that can give up essential liberty to obtain a little temporary safety
deserve neither liberty nor safety." -- Benjamin Franklin
"Has anyone seen Bush speak when Cheney's drinking water?" - Robin Williams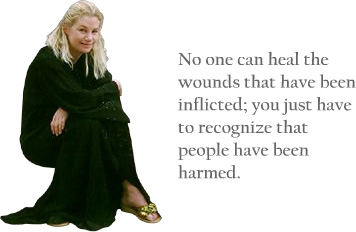 Marla Ruzicka - Campaign for Innocent Victims in Conflict (CIVIC)
killed in Baghdad, 16 April 2005 - age: 28
One (Especially) Sad Death in Iraq by David Corn
Lakeport mourns its loss S.F. Chronicle
LAKEPORT More than 600 mourn peace activist at service S.F. Chronicle
The Agony of War by Bob Herbert

"The problem with ideology is, if you've got an ideology, you've already got your mind made up.
You know all the answers and that makes evidence irrelevant and arguments a waste of time.
You tend to govern by assertion and attacks."
Bill Clinton, October 18, 2006
"The trouble with the world is that the stupid are cocksure and the intelligent are full of doubt." -- Bertrand Russell